News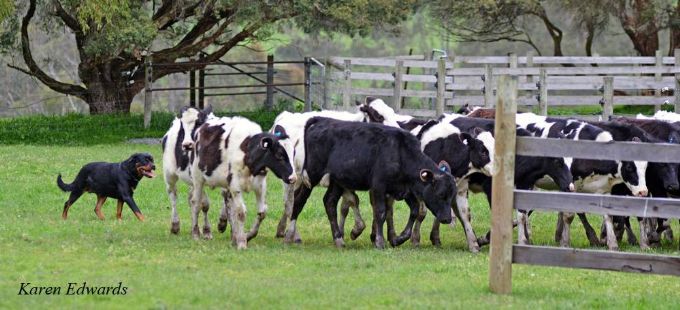 October 2018, Seven gives birth to 2 gorgeous puppies by Enkidu Crni Lotos
-----------
At the VHA Herding Trial at KCC Park in May 2018, Dance backs up her previous HIT with another on 96.5/100
------------
At ASCV Trial April 2018 Dance gains her Started A course Sheep Title with a High In Trial score of 98/100
-------------
November 2017 at the RCV National, Seven gains her NRC(A) Title by passing her BST.
During the National Herding Trial she also takes out High In Trial Herding and also gains her Started B course Duck Ttle and her Novice A course Cattle Title all on the same weekend
--------------
October 2017 Dance passes her Dogs Victoria Therapy Dog Certificate Test
---------------
June 2017 at the State herding Trial, Legend takes out High In Trial at 16mths and a score of 93.5
https://www.youtube.com/watch?v=L5zQgtNwBhQ&t=10s
--------------
20th May 2017 at VHA Herding Trial, Legend competes in 2 x Started A Sheep classes.
His first score is 93.5/100 which sees him place 2nd as well as receiving his HSAs title. At 14 months he is the youngest Rottweiler ever in Australia to achieve this title.
In his next class he is awarded a massive 96.5 /100 which gives Legend the honour of back to back High In Trial
--------------
22nd April 2017 at ASCV Herding Trial, Legend competes at trialling level classes for the very first time.
He wins both his Started A Sheep classes with scores of 94.5/100 & 92.5/100 and then goes on to take out High In Trial
--------------
26th Feb 2017 at ASCV Herding Trial, Seven gained her final pass towards her Herding Started A Cattle title, taking out 2nd place in the class. This makes Seven the first Rottweiler in Australia to hold any herding titles on Cattle.
She then went on to get her first qualie in Herding Novice Cattle and winning the class.
--------------
9th October 2016, 2 puppies from our recent litter, Legend & Dance both passed their Instinct Certificates and Herding Test Titles. Achieving this makes these puppies the youngest Rottweilers in Australia to gain their HT titles.
Starkehre I Am Legend HT
Starkehre Dirty Dancing HT
At the same herding trial that weekend Seven gained 2 passes towards her Started A Cattle title, these passes yielding her a 2nd & 3rd place. This makes Seven the first Rottweiler in Australia to have any ANKC passes herding cattle
--------------
18th March 2016, Seven stars in a segment on Yappy Hour about Rottweilers
Click on link below to view the presentation
https://drive.google.com/file/d/0B9C7_s4tBy6DV3VXU0phalYtMTQ/view?usp=drive_web
--------------
On the 13th March, Seven gave birth to 9 beautiful, healthy puppies - 5 girls & 4 boys
--------------
We are very proud of Seven

At 3 and a half years of age, she finishes off 2015 with 9 ANKC recognised titles in 3 different disciplines. Seven also was awarded VHA 2015 Top Novice Herding Dog of the Year
------------
October 24 2015 at the ASCV trial, Seven gains her HNAd title. She also takes out High In Trial Sheep & High In Trial Over 2 Stock types
------------
RCSA 45th Championship Specialty Show, 17th Oct 2015 - Judge Mrs Alison Raftis.
CH. Clyzan Seven Deadly Sins (AI) HNAs HSAd HSBs ET takes out the Open Bitch Class gaining her 9th V1 & 18th V rating. Seven then goes on to win Bitch Challenge and then RUBISS.
-----------
October 3, 2015 at the Dogs Vic Herding Amenities Event, Seven gains her HNAs Title to become the first Rottweiler in Australia to hold this or any either herding driving title - Daniel Ball - 88.
During this trial Seven was awarded RUHIT Sheep - HNAs - 91.4 - Kate Dourley & RUHIT Ducks - HNAd - 79 - Daniel Ball, 2 class wins and the Highest Scoring Conformation Titled Dog In Trial
-----------
At the VHA Herding Trial, September 2015 Seven gains 2 Titles - HSBs & HSAd
Seven is the first Rottweiler in Australia to hold both these herding titles.
Also at this same trial Seven wins several classes, a judges encouragement award, Highest Scoring Dog Over 2 Stock, and also achieves passes in HNAs & HNAd, also firsts for our breed in this country.
Video of our Herding Started B Course on Sheep, title run - 87 points
https://www.youtube.com/watch?v=X9nF0-evarA
-----------
Seven receives a Normal Echocardiogram Certificate - July 2015
see Seven's page for certificate
------------
Seven goes HIGH IN TRIAL at the Border Collie Club Herding Trial - July 2015
under judge: Chris Szczygielski - score 91/100 - Herding Started A Ducks
-----------
Seven gains her Endurance title - May 30th 2-15
----------
Seven is awarded HIGH IN TRIAL at the VHA Herding Trial April 2015
under judge: Ross Carlson - score 97/100 - Herding Started A Sheep
https://www.youtube.com/watch?v=cdUTx1Il9No
-----------
Seven is awarded HIGH IN TRIAL & RUNNER UP HIGH IN TRIAL at the ASCV Herding Trial Feb 2015
under judges: Glenn Cunningham - score 92 and Karen Edwards - score 90
----------
Seven goes BISS under judge Louise Russell and then RUBISS under judge Kerryn O'Brien at the WCRCWA Double Header Specialty Shows, August 23rd & 24th 2014
-----------
At the VHA Herding Trial April 2014, Seven obtains a qualifying score of 94 out of 100 HSAs to be awarded RUNNER UP HIGH IN TRIAL
-----------
Seven achieves her HSAs Title at the ASCV Herding Trial -
March 2014 to become the youngest Rottweiler in Australia to achieve this title
----------
Seven gains her 10th V Rating with V3 at the RCV 53rd Champ Show -
Feb 2014 Judge: Mrs Donna Wright
-----------
Seven is awarded equal 1st RCSA Top Bitch Conformation 2013